Published by John on February 10, 2018 Under

Computer Repair
Recently, one of my business clients that relies heavily on Office 365 for Business and One Drive was running into an issue on his laptop where every-time he opened a Office document from One Drive, he got a warning saying Uploads were Blocked and to sign-in to unblock them. However, he was unable to sign into his Work Office 365 Account. Instead, every time he tried to sign-in in Microsoft Word, it would ask if it was a Personal or Work Account and upon selecting Work, the password screen never appeared.
We were also having an issue with his Windows Pin, where it would not accept the pin and after removing it, every time the computer restarted, it would prompt him to enter a Pin(because he was using a non-local Azure account to signin to windows 10,) but it would not work and instead threw an error.
After a bit of troubleshooting, I determined the Upload Blocked error in Microsoft Word was related to a relatively new setting in One Drive for Business, which monitors files and detects/merges changes when more than one person is working on the same file at the same time.
Who this may apply to
While the below will 'fix' a lot of profile related issues, there are a few factors that were going on in this case:
User was using a Microsoft Windows 10 Azure Account instead of a local account to login to Windows
User was part of an organization and signed into that organization via Windows Account Settings(Access Work or School)
There were Windows related issues with account, specifically issues with Windows accepting the current PIN or setting up a new one.
It was not possible to sign into Microsoft Office 365 products(Word, Excel, Outlook) using a work account. When work account was selected, the box to enter password disappeared, but personal accounts worked.
The user was using the same email for a personal and business One Drive Account and using Business One Drive on their PC.
Workaround for Uploads Blocked in Microsoft Word / One Drive
As a temporary workaround, I disabled this feature in One Drive, by right clicking on One Drive in the System Tray and selecting settings. Then, un-checking the Use Office 2016 to sync Office files that I open option. This is shown in the image below: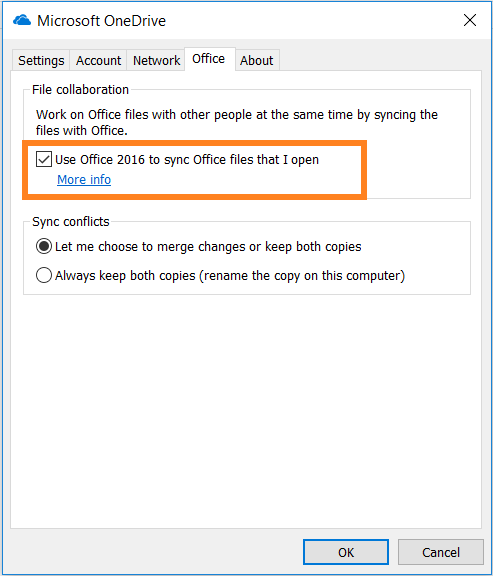 If you need to disable the pin setting, there is a Group Policy setting you can use to configure whether Windows Hello is used. This removes the prompt to setup a pin when you restart the computer.
Continuing Issues with Microsoft Work Account Sign In
Turning off the Onedrive Office Setting allowed using Word to edit one drive files again, so he was able to get a bit of work done. However, there was still a Pin error while restarting windows that said his Organization required a PIN. This shows an error code, but it is not listed on their list of PIN Error codes for Windows 10. And, the issue with using a work account with Microsoft Office remained, only a personal one would work.
Initial Troubleshooting
Prior to trying the below, I did standard troubleshooting, like:
Restarted Computer
Created a new Local Account and Verified Office 365 Login Issue was happening on the new account as well
Updated Windows 10
Updated Office and or Repaired Office Installation
Removed Office related Credentials from the Control Panel Credentials Manager
Uinstalling Microsoft Office 356 for Business from Control Panel
Reinstalling Office from new download from office.com website and updating it.
After none of the above worked, I decided to disconnect the work account and link to a local account instead.
Disconnecting from the Azure Organization and Uninstalling Office
You may want to check the 'Other things to try first' section before you do the below, especially if you are not comfortable setting up a new windows account and transfering your personal files to it.
What ultimately ended up working was Disconnecting from the Organization in Windows Settings, creating a new local account not tied to his organization/work account, completely removing office using the OffScrub2016.vbs and OffScrubC2R.vbs, and then reinstalling Office and One Drive. The basic steps are described below:*
Create a new LOCAL account, not tied to a Microsoft Profile. Set it as an Administrator and Login to the new Account.
Log back into the broken Azure Disconnect the Work account/email under Settings->Accounts->Access Work or School->Select Account->Disconnect(you will be prompted to enter username/password created in #1
Restart the Computer and Login to the Local Account from #1
Completely uninstall Office 365 for Business, One Drive, and any other Office Programs. I used OffScrub2016.vbs and OffScrubC2R.vbs which you can extract from the Uninstall tool found here: Uninstall Office 365 Completely

Note that you can extract these individual scripts or just run the Fix it tool. If the fixit tool does not work, there is a section for manual uninstall.

Restart the Computer and reinstall Office 365 for Business by logging into Microsoft and downloading the install file. Also, download and Reinstall One Drive.
After this, I was able to login to Microsoft Office using a Work Account and use the Use Office 2016 to sync Office files that I open setting.
I believe that it is possible that simply disconnecting the Work Access and switching to a non-Azure local account may have fixed this without the complete uninstalation of Office. Unfortunately, I forgot to check after removing the Windows 10 Microsoft Linked Azure Account and it was clear that there was some sort of corruption here in Windows 10. However, doing the complete uninstall of Microsoft Office didn't hurt anything and made sure all the old settings were removed.
This allowed us to avoid having to reinstall windows and all of his apps, as well as allowing him to continue using One Drive for Business with all its features. In this case, the client was using the same email for their business and work account, see below, and so we will also be changing their one drive email and trying to avoid logging into Microsoft on the Windows 10 side of things(like using the store or other features that require an email.)
*Please backup your files, settings, and anything else that you do not want to loose prior to preforming any of the actions above!
Other things to try first
While creating a new local account as described above will repair lot of profile/setting issues in Windows 10 and is likely the quickest fix, it is of course a nuclear option.
You may want to try a couple other things if you are concerned about needing to transfer files/settings between accounts. Here are a few other things you might try…I'm sure there are more:
Adding a new work/school account to computer via Windows Settings
If your personal email account is the same as your business, try changing it(or whichever is not currently logged into the computer) to another email
Use the Microsoft tool to Completely uninstall Office 365 for Business, as described above, and reinstall
Possible Cause for this Issue
Windows 10 goes out of their way to integrate a Microsoft ID/Email with Windows 10. So, with very little work you can end up with a Microsoft account tied to your computer profile.
They allow you to use the same email for a personal and business account. In these cases, every time you sign into an Office Program or on Microsoft's Live Website, you will probably be prompted to select if you are using the personal or work account before you enter a password.
It is possible the Pin/Organization issue that we were seeing in Windows 10 is some sort of glitch in a Windows program or service that causes it to get confused and not select the right type of account(business or personal.)
In this case, I am advising the client to also change their personal one drive account to use a different email address just to be safe, as he is such a heavy user of One Drive for his business right now.
No Comments

|