Published by john on December 10, 2009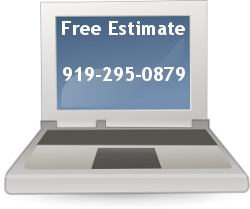 We offer a wide variety of consumer computer repair services, including on-site virus removal and laptop repair. Some of the more common services are listed below.
If your computer is moving slow or you are noticing other problems, please don't hesitate to call for a free estimate or advice on whether it makes sense to repair the computer or replace it with a new laptop.
Virus and Spyware Removal
We offer virus and spyware removal, but unlike most other computer repair shops, like Geek Squad, we are not out to charge an arm and a leg. Instead, our goal is to ensure that your personal data is safe and to help give you the tools to prevent it from happening again.
To this end, we will either remove the virus, or preform a reinstallation of windows, which includes backing up your files, reinstalling all programs, and preforming optimizations to make your computer run faster than when you first purchased it.
Hardware Installation and Setup
We can install and troubleshoot any type of computer hardware, cracked laptop screens, printers, scanners, web cameras, and sound systems. This also includes installing computer memory, hard drives, DVD Drives, CD-Roms, and running network cables.
We also offer Wireless Network Setup.
Windows Upgrades
Windows 10 was released in July of 2015 and fixed many of the issues and complaints people had with Windows 8. For those that are still on Windows 7, Windows 8, Windows Vista or an even older system, Windows 10 might be a good choice for an upgrade.
For those that do not want to switch to Windows 10, Windows 7 is still available and is a big improvement over Vista.
We offer Windows Upgrades for Vista, XP, and Windows 7, as well as older systems. We can also typically restore your system to its original factory condition, for a new out of the box experience on an old laptop or desktop.
Windows 8, was released October 26, 2012 and brings with it a some rather big change in how users can interact with their computer. If you need some help getting used to Windows 8's Metro Style or want to get a feel for how it works, please check out the Learning Windows 8 Tutorial.
If you are thinking about upgrading to Windows 10 and have an older version of Windows, like XP or Vista, you can get a great deal on a Windows 10 license! We will offer a special discounted windows upgrade special too!
Windows XP Upgrade Special
As of April 2014, support for Windows XP has ended. If you are still running a laptop or desktop with Windows XP on it, you should consider upgrading! Most likely due to the age of the laptop, it will make sense to purchase a new laptop, but please touch bases with us for a free consultation and if you do decide to switch to a new laptop, we can help backup and transfer your old files.
To learn more about what this means for you, check out our learning center article: Windows XP Upgrade Info.
Other Computer Services
With over 15 years of experience, there is nothing we can not help you with at Knightdale Computer Repair, including web design. We can quickly get you up and running with your own website, which is just as easy to use as checking your mail online.
Please give us a call for a free estimate and don't forget to ask about our "First Time Customer Discount."
We Support Windows, Linux, and Mac OSX.
Our Goal
Our goal is not just to fix your computer, but also help prevent the same sort of problems from occurring again. Please check out our Learning Center, which covers a number of commonly asked questions, and explains some important computer security tips.
List of Computer Repair Services
Virus and Spyware Removal
Onsite Computer Repair
Windows Upgrades and installations
Laptop Repair
Cracked or Broken Laptop Screen Repair
Apple and Mac Support
Memory Upgrades
Hardware Repair
Wireless Network Setup
Email Setup
Family Website Design and Hosting Plans
Data Recovery
Computer Training, including Microsoft Word, Microsoft Access, and More
Linux Training
Much More!