Published by john on April 14, 2014 Under Tech Support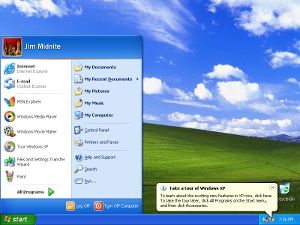 Windows XP is one of Microsoft's most popular versions of their Windows operating system, if not the most popular. It was originally released in October of 2001 and since then has found its way into the homes of millions of people.
On April 8, 2014, Microsoft officially ended support for Windows XP, so if you still have a laptop or desktop running Windows XP, it is time to start thinking about upgrading!
Need Help with an upgrade? Call us today at 919.295.0879
Windows Upgrade Table of Contents

Why Do I need to Upgrade Windows XP?
When Microsoft releases an operating system, they agree to provide periodic updates to fix security issues and other problems that are found with their operating system. There is a set period of time that they agree to provide these updates, sometimes called the support or product lifecycle of the operating system.
As of April 2014, support for Windows XP has ended, so Microsoft will no longer provide security updates for Windows XP. As new problems are found with the operating system, they will not be fixed, which can mean the operating system is less secure and more prone to infections, like viruses or spyware.
Will Windows or My Programs Stop Working?
No, Windows and your other programs should continue to work, even after support for Windows is discontinued. However, since there will no longer be Security Updates to Windows XP, you will be at an increased risk of infection.
To upgrade Windows XP, you will need to install a different version of Windows on your computer. There are a few different types of Windows available, including a special upgrade version that is less expensive then retail versions of Windows.
One of the most important steps is making a backup of all of your files. You should put these on a backup device, like an external harddrive or USB Stick, so they are not lost during the upgrade. You will also need to make a list of the programs that you use, so you can reinstall them after you get your new version of Windows setup.
After you have a backup, you can use the install disc that came with the new version of windows.
Is it worth Upgrading or Should I Just Buy a New Computer?
This is an important question and the cost of a new laptop or desktop should be compared with the age of your current system.
Windows XP has been around for over 10 years and so many of the computers that are running it are also rather old. Windows 7 and, to a lesser extent Windows 8, can run on a lot of hardware, but it doesn't always make sense investing in upgrading an older computer.
Even though it may cost a bit more, for older desktops or laptops, you might be better off just upgrading. Especially if you were thinking of doing it anyway.
Would you like assistance, Contact Us and ask about our windows XP Upgrade Special!
What Version of Windows Should I Get?
If you are used to Windows XP and like it, Windows 7 will probably provide the best alternative for you. Windows 7 is a very solid operating system and will be supported by Microsoft until 2020. Most of the programs you have should work under Windows 7.
Windows 8, the new version of Windows isn't terrible and most programs will work here too, but is a lot different than previous versions of Windows. If you haven't used it before, you should check it out in a store first, so you can play with it a bit and see how it works.
Is there an Alternative to Windows?
Yes. If you would like, you could install a different operating system like Linux, which is free and offers excellent support for older hardware. This can be a great option for an older computers, as well as new ones, but keep in mind that Programs made for Windows are not typically compatible with Linux. Alternatives exist for most programs, but, especially if you use a specialized software, it may not be compatible with Linux.
If you need help deciding whether it is worth upgrading, what operating system to upgrade to, or just want to learn more about your options, please give us a call at 919.295.0879 of Contact Us.
No Comments

|